Are you a nature lover? Are you fond of dreaming landscapes and peaceful places?
If so, this article is perfect for you. You must read it and discover the treasure of the Dolomites - Lago di Braies. Believe me, when I say, you will never forget the contrast between the Emerald water and the color of the leaves in the Autumn season.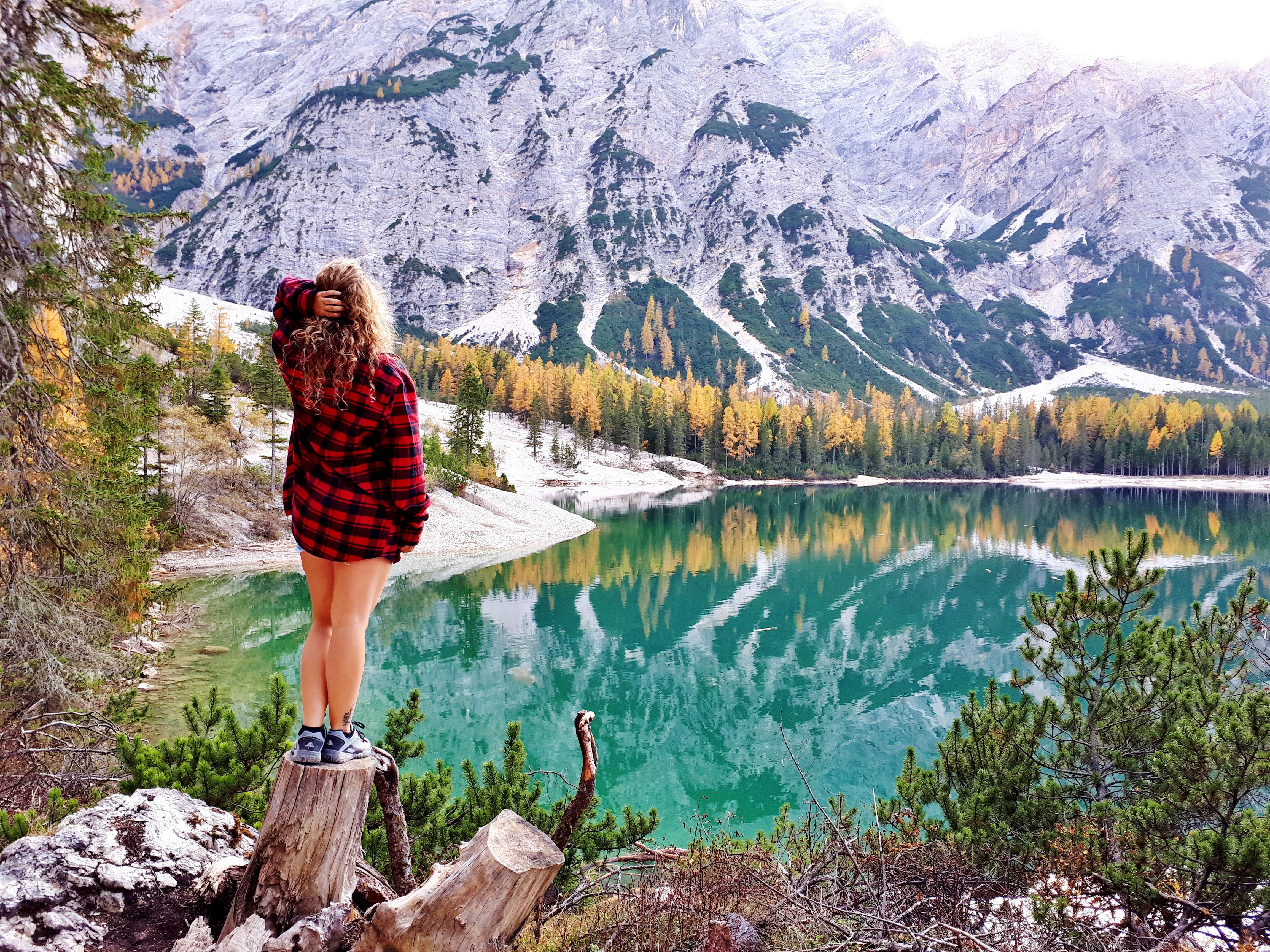 It was the middle of October when I visited Lago di Braies. It was a beautiful sunny day, not too hot or even too cold, just the perfect weather for an unforgettable moment.When I arrived, there were a few people, not a huge crowd, around the pretty wood cabin. I relished a peaceful time around the lake, I enjoyed the views, craving in my memory every detail. I still can feel the happiness in my heart due to the lightness that this moment meant to me. I put myself together, it was like to find heaven and I felt more alive than ever.
I choose carefully every place that I want to visit, all of them are special even before I see them, and I, like many others before me, fell in love instantaneously when I had seen the first picture of Lago di Braies. I knew that I should see it with my own eyes and I should appreciate every detail. I will not lie to you, the expectations were high, and even so, my experience was so much better than I thought it could be.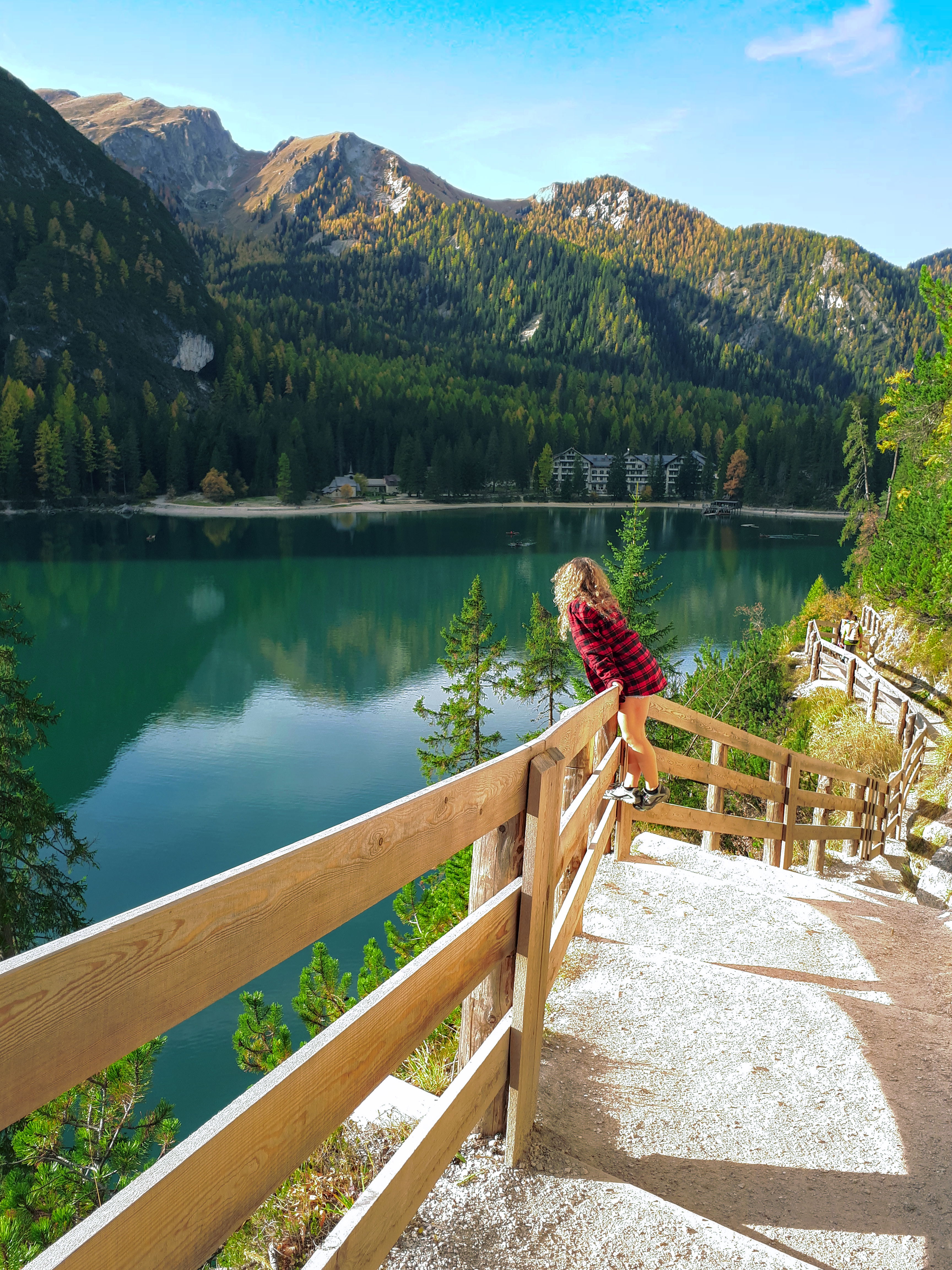 Lago di Braies is one of the most beautiful lakes in Italy. Also called Pragser Wildsee is part of Fanes-Sennes-Prags Nature Park, a pure treasure in South Tyrol. I'm going to spill the beans and tell you what you are missing.
Lago di Braies is the pearl of the Dolomites, a photogenic mountain lake, with awe-inspiring scenery for all that are passionate about mountains. As right as rain, this place will touch your heart forever, so please slow down, take your time and leave no stone unturned.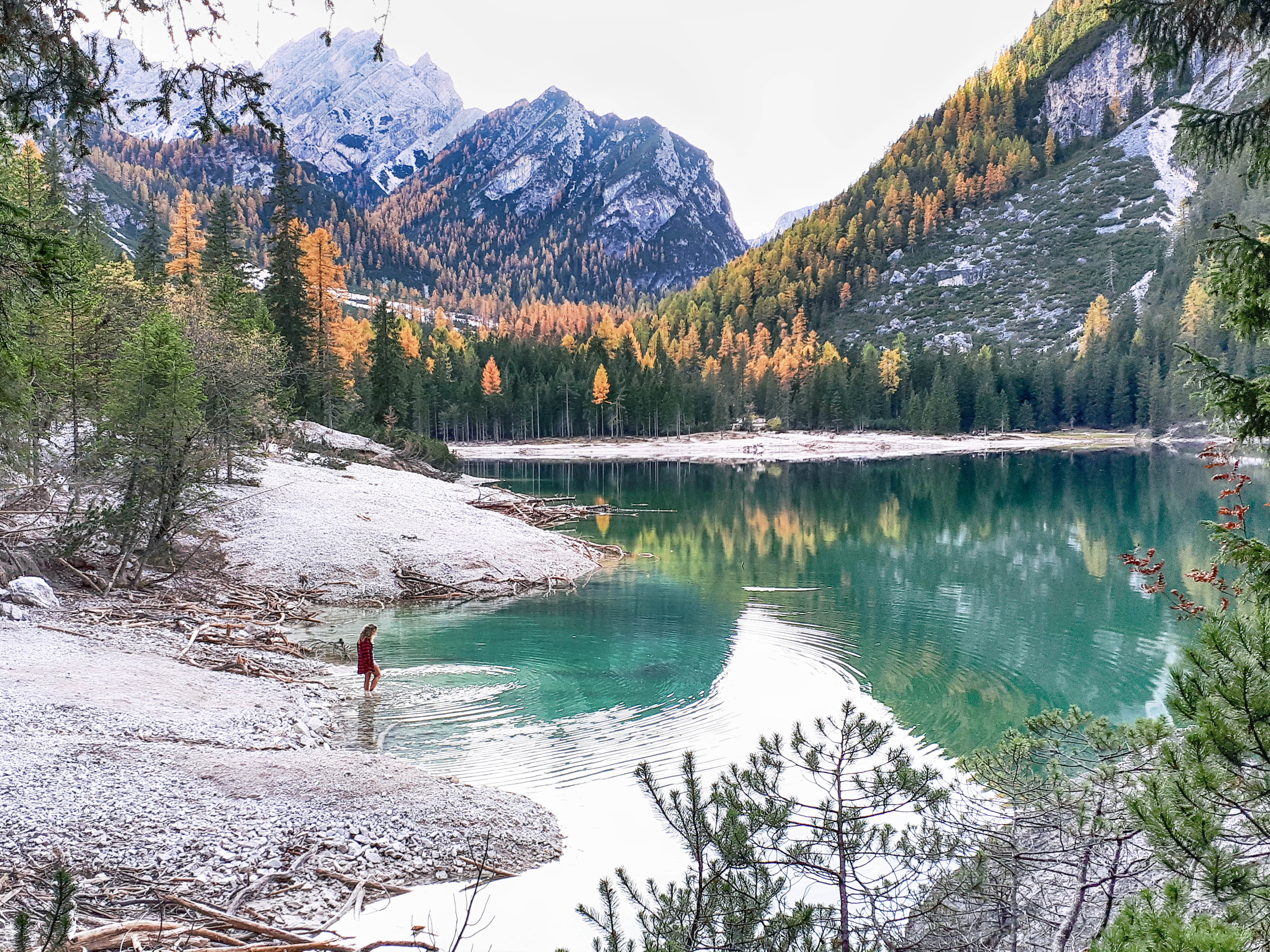 It's possible to explore the area from shore or water, whether you decide to go hiking or rent a row-boat. There is an easy 2-mile hiking trail that circles the lake providing such a spectacular time. On the west side of the lake, there is a small chapel which was built in 1904.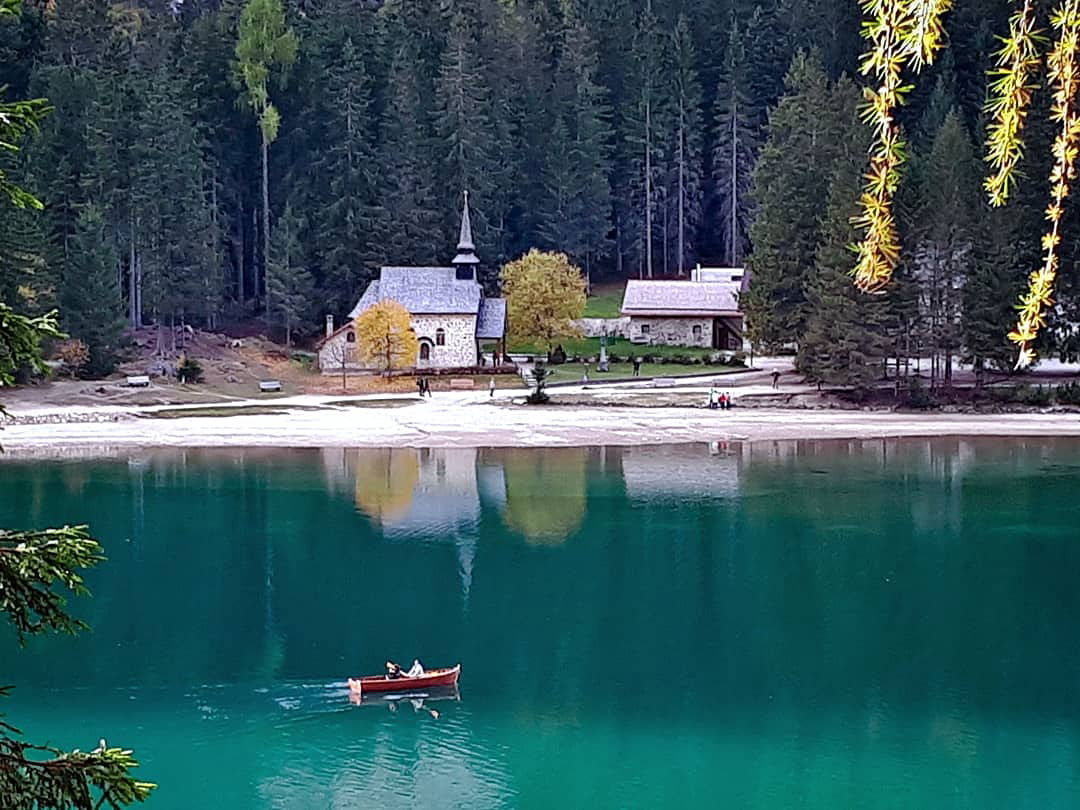 Ever time of the year is good to visit Lago di Braies. I visited in Autumn, I was enchanted with the colors that made the lake dazzle even more - the contrast of the Emerald water and the shades of yellowish and brown of the leaves, with the towering limestone peaks as background.
If you want to appreciate this place, I recommend you to avoid the high season.

CURIOSITIES
There are a few legends about Lago di Braies but I was delighted by a specific one. The legend says that the lake was created when the savages mined here, looking for gold. Nevertheless, the shepherds who lived here were jealous and they tried to steal the treasure… Of course, they were unsuccessful, the savages opened underground springs and sunk all the wealth in the resulting lake. I believe this was the perfect way to create such a paradise.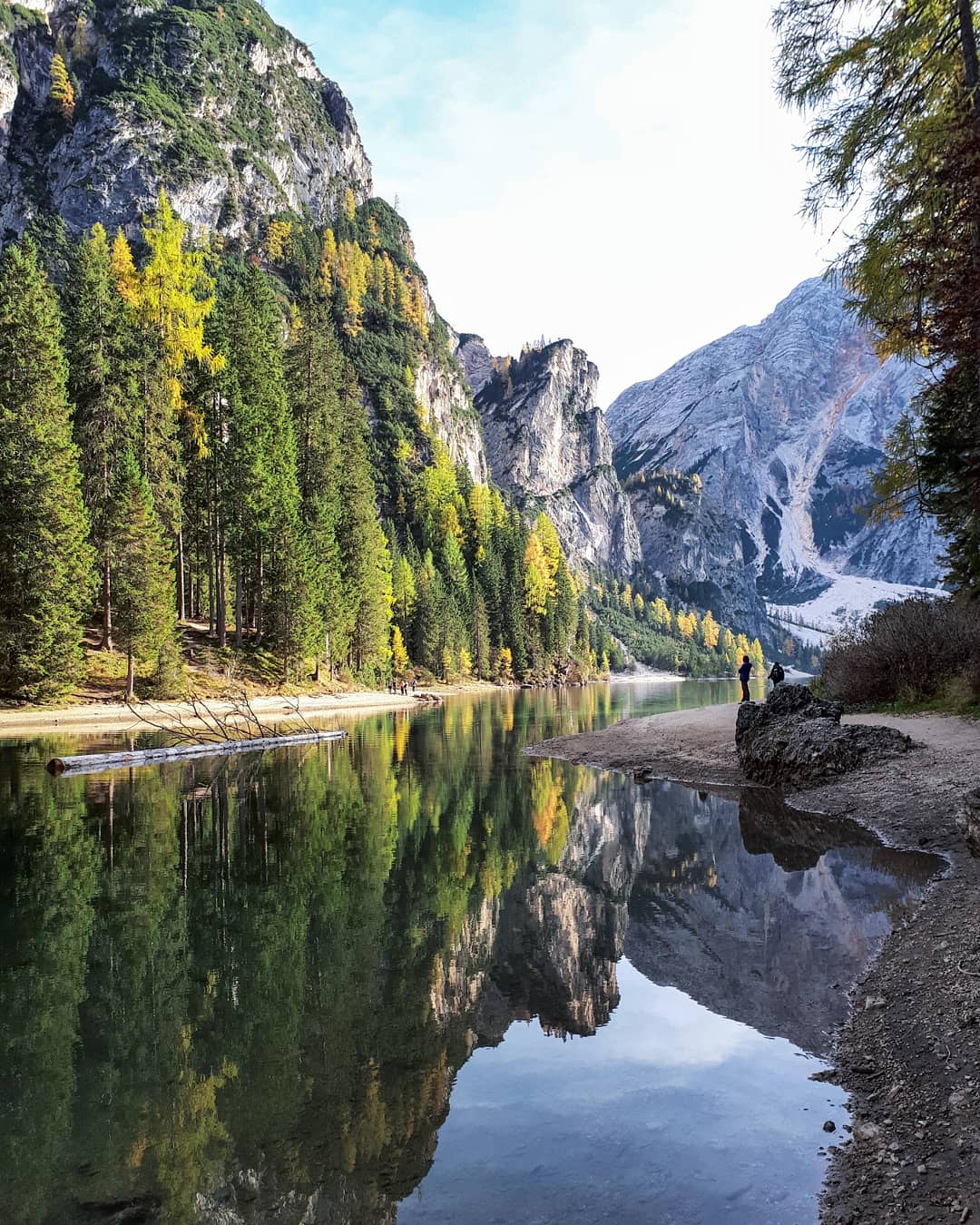 How to get to Lago di Braies?
There are a few options you can consider, the closest city nearby is Bolzano. The easiest way is by car and you can stop whatever you want… and believe me, there are so many places to stop.

Where to stay?
Lago di Braies has its hotel called Hotel Lago di Braies.As an alternative, there are beautiful cities around the area, perfect to set up and discover all the secrets of the Dolomites. I stayed in Cortina d'Ampezzo, in a beautiful mountain hotel.